If you would like to link to this site please use one of the following banners.





LINKS

Whispers won an award!!!!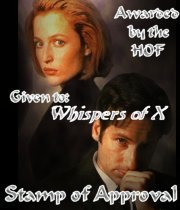 This site has won an award!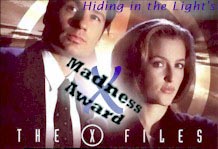 Writing Resources

SparkNotes.com!


Welcome to Working Stiffs - A Resource for X-Files Fan Fiction Writers


Bill's World of Resources for Writers


Indispensable Writing Resources Site


Writing a Paper LibrarySpot.com Feature


Resource Central - Writing Resources


Slash Writers Resource


The X-Files Timeline


Zeno's Forensic Site information on forensic science


Copnet


Federal Bureau of Investigation - Home Page

General Fanfic Archives

Satyricon au go-go


Christopher Scully Stories


The Bill Scully Fanfic Archive


CharlieFic


FanFiction.Net


The Winners' Circle


X-Files Virtual Season


The Gossamer Project


The Annex - Novel Archive


The ScullySlash List Home Page


It's Raining Sleeping Bags


Foxx's Extreme Shipper Fan Fiction


eXpositions


2001 Spooky Awards


2000 Spookys awards


Hidden Gems


Enigmatic Dr's Fanfic Favorites


Ephemeral


Xanadu -- An X-Files kind of utopia


Xfiles Fanfic Casefiles


The Hub


XFU School of Slashfic


X-Babes...Mulder and Scully's kidlets


XANTHE


Welcome to 155 Words - Home of the Shortest MSR Series


The Truth Distorted


Three Way Stop


The Tex-Files


Strange Realities


Skinner-Scully Romance Archive


The Salvation Archive


Roads Less Traveled


The Lair Of The Rat


Primal Screamers


previous eXcursions


Pre-XF Fan Fiction


The Naked Eye


Mulder Scully Married Archive


M&S Angst-O-Rama


The Official Melissketeer Home Page


Mark of X-Cellence


IOHO - In Our Humble Opinion...


GreasySpoon


Batter Up!


The Animal Files


The Chronicles Of LabBoy

And the ABSOLUTE BEST PLACE to find fanfiction
sites on the net is:
~~~X-Files Fanfiction Links~~~

"The X-Files" TM and © (or copyright) Fox and its related entities. All rights reserved. Any reproduction, duplication or distribution of these materials in any form is expressly prohibited. This web site, its operators and any content on this site relating to "The X-Files" are not authorized by Fox."